7 Things to Remember When Hiring an Electrician in Southern Maryland
We live in the 21st century and all of our homes run on electricity. No one likes the idea of a house fire in this century anymore than they did ever. It is highly recommended that you call an experienced electrician for all of your electrical needs. Finding the right electrician for your project is vital. Here are a few things to remember before hiring an electrical contractor in the Southern Maryland area.
1. Make Sure You are Hiring a Maryland Licensed Electrician
This is an easy step, but it is crucial. If something goes wrong because of the work that an unlicensed electrician did, you will be left cleaning up and paying for the mess. This includes on the job accidents or post-in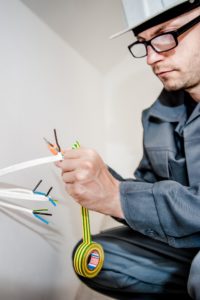 stallment mishaps. If someone is unlicensed they, nor their work, will be insured. Before you call to schedule an appointment verify that they are licensed in the state of Maryland as an electrician.
To verify that who you are thinking about hiring has an active license in Maryland you can search the Maryland Board of Master Electricians database by last name, city, or license number.
2. Verify You are Hiring an Insured Electrician
Just because you have found a licensed electrician in southern Maryland does not guarantee that they will have the proper insurance to protect you from any incidentals. Verify that your potential electrical contractor has liability insurance to cover the cost of any repairs. Also make sure that they have workman's compensation so that you will not be liable if someone breaks a wrist falling off a ladder on your property.
3. Know the Difference in Electrician Qualifications
You need to understand the difference between a Master Electrician and a Journeyman Electrician. It is hard to ask who will be doing the work if you are not aware of the differences in the workers. Take a minute a read the main differences between an apprentice, a journeyman, and a master here.
4. Who will be doing the work? The owner or an employee.
Unless you are hiring a one man company, there is a high probability the owner of the business won't be doing all of the work himself. He may have licensed journeyman completing the work. Or there may be an apprentice on the work site. Just make sure to ask if their work is insured and will be overseen at all times. If a subcontractor will be used, make sure they are licensed and insured completely as well.
If a different employee than the one giving the estimate will be doing the work, make sure you have the right number to call if you have questions or something goes wrong.
5. The Hourly Rate Should Not Be the Deciding Factor
This is an important thing to remember when hiring an electrical contractor. A high hourly rate should not dissuade you from considering a certain electrician. A few things to consider would be: 1) Does this include any warranties? If so, what are they and how long are they good for? 2) Does the high hourly rate include all the electricians travel costs, or will these be additional charges at the end of the project? Going with a cheaper hourly rate may not account for travel time and can add up quickly if your electrician has to run back and forth to the store because you keep changing your mind on a light fixture. 3) If someone is charging a low hourly rate, there may be a reason. Definitely ask for proof of all licensing and insurance, references, years of experience and training.
Basically, check the fine print and don't hesitate to call around before signing any contracts.
6. Ask for References and Previous Experience
If you were the boss of a company and were trying to hire employees, you would not hesitate to ask for references and previous experience before making someone a part of your company. It is no different when hiring an electrician. When hiring an electrician in Southern Maryland you are the boss of your home or project. Do not hesitate to ask for references from previous jobs similar to your own. Make sure that who you are bringing into your home or onto your project has a good reputation for doing a good job.
7. How Does Your Electrical Contractor Feel About You Inspecting His Work
When shopping around for an electrical contractor, remember to ask how he feels about random or routine inspections of his work, whatever your schedule will allow. An inspection is recommended because it will allow you to get a good sense of the kind of work you are paying for. You may not understand how the wiring works, but if wires are running to panels or uti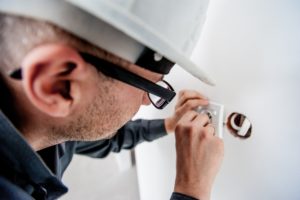 lity boxes in a jumbled, unorganized mess, be wary. Evidence of habitual disorganization and untidiness may lead you to hiring a different electrical contractor who pays more attention to detail.
A few things to look for: If you notice that cover plates are loose and crooked, that means the electrician did not take the time to put the utility box in the right place; flush with the studs and far enough away from the wall. If wires that are going into a panel box or circuit breaker look criss-crossed and jumbled, this means that it is possible for wires to have literally become criss-crossed leading to obvious issues later.