A day in the life of an electrical contractor in St. Mary's County Maryland
Everyone loves to knock down walls, make new ones and then just cover the crooked angles with facades to end up with your new home renovation just as you wanted it. Then you just realized, ¨oh man! ¨ that switch would have been better on this side or you wished you had added an outlet here, so you could charge your iPhone as you relax on your new papasan chair. That's when you realized having an experienced electrician in St. Mary's County Maryland would have made your new living space actually the way it should be.
Whether it is for commercial buildings, adding a new light fixture inside or outside the house or renovations, an electrical contractor doesn´t look at the facade, he´s actually your X-Man with laser eyes who pays more attention to the blueprints. Kevin who is your local owner of Southern Maryland Electrician Pros is your experienced electrician for more than 15 years; he knows how Southerners live at home and can help you feel more right at home.
¨What do I say? ¨
When your electrician arrives to give you a free consultation and estimation, you might be thinking simple as 1, 2, and 3; not exactly. Unless you hired an interior designer you need to explain more. Most of our renovations are basically ideas we got from Pinterest and want what we see, right exactly in one area. However we are forgetting how we live in a home can be very different from others. Does one family member have to leave the door before dawn breaks? It would be wise to have a light fixture in the coat closet. Do you want a mini gym but there´s not much air circulation, so maybe installing ceiling fans close to a window could increase natural air flow as you exercise. In your large dining room, you may like to entertain your friends with a low dimmed wine and cheese night but at the same time later on, you want to play catch phrase. The daily things you do, to what you do during your leisure time at home play a huge part to where you need electricity. Having a professional local electrician understand how you live and as you show him your ideas, he can easily give recommendations that will make your renovations fully worth it in the end. Your electrician will analyze the best and safe areas to run the cables needed for your wants and he will ask as many questions needed to understand your vision. So the more you explain your thoughts and purposes, the easier it will be for your electrician to fully accommodate how you live in your home.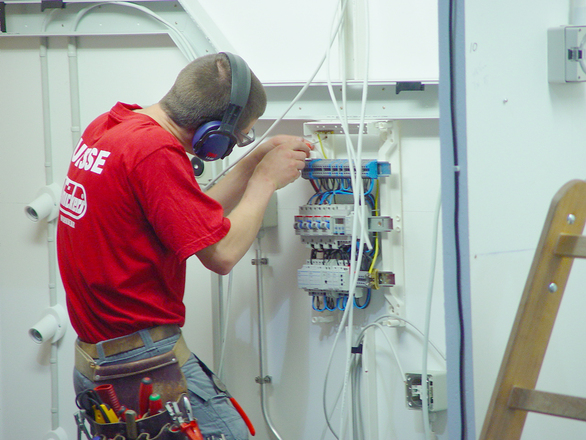 Let's go fishing for an electrician
Most electricians are the ones who like to work with their hands without getting too dirty. It's a trade where you have to constantly use your brains for mathematics, be precise, neat and clean. They are the nerds in construction. After they analyze your blueprints or assess how the initial circuits were installed he will determine where all the wires and other components will go. He will let you know if the existing wires need to be replaced with more modern ones or if a new circuit breaker box would be needed to accommodate new appliances. Especially if your home was built around the 1900s it is a definite must to have a licensed and insured electrician to do the job so you're free from any liability; and getting the installments done correctly will be a good investment if you´re thinking to sell in the future. If they are re-wiring your house or installing new wires you will be seeing them fishing for the cables as he gets them all connected throughout the house. They use tools like conduit benders, screwdrivers, pliers, knives, hacksaws and wire strippers for installation and later on they use ammeters, ohmmeters, voltmeters, harmonics testers and other equipment to test all the connections, compatibility and safety components to make sure they are installed properly. As he works in your home he can also check if there is need for maintenance work to repair or replace electrical equipment. He may need to replace things like circuit breakers, fuses, switches or more wires.
He will have to maintain good communication with the other contractor or the person in charge of doing the renovations to be aware when he can come in to start installing the wires before anyone starts putting the make-up for the finishing touches. At this moment when the renovation contractor is ready for the electrician to come in for installation, this is the time where you as the owner should be present and observing. You may have another idea you found in the internet you want to incorporate and so this is your chance to speak up because after the walls go up it may be difficult to add something you wanted. However it's not impossible. But as most electricians they want everything done in an orderly organized way to make sure everything is done according to the books.
A Good Catch
Whether it be installing wires for your new pool with a deck or adding fixtures inside your home to helping in a new living space your professional electrician is fully capable to leave you satisfied. They work any time of the day as overtime can be required when working on new buildings and homes. Their work may be strenuous and include bending conduit, lifting heavy objects and standing, stooping and kneeling for very long periods. They have risk injury from electrical shock, falls and cuts and that's why you want an electrician who follows the right procedures to the minimal details and not making more work trying to finding short cuts. It can be hard to find a dedicated electrician, however luckily you have one down the street! The Southern Maryland Electrician Pros are your electricians that pride in leaving their customers satisfied that they have the only reputation to be fully trustworthy locally. No doubt, it's hard to find a decent electrician these days but Kevin´s locally owned and operated team can't let you down when you´ll be enjoying your new living space more than you imagined it. They are one catch you don´t want to let go.